2 Easy Ways for MBAs to Network While Social Distancing
Estimated reading time: 5 minutes
[Guest Blog] 2 Easy Ways for MBAs to Network While Social Distancing
Networking is a cornerstone in the MBA experience. Many key business school relationships begin in-person through group project work, networking sessions with classmates and company executives, and panel discussions with alumni. However, many of these relationships also start with a carefully crafted follow-up email to a recruiter, or a great informational interview where you hit it off with a recent alum. I say this to underscore that we are more well-equipped to begin our relationships online than we think we are. It's just a matter of moving some of the activities we're used to doing in an MBA program in-person, online.
Host an Online Panel with Subject Matter Experts
One of my favorite parts about attending alumni events at both my college and my business school is going to panels and talks with leading experts. It's a great way to keep up with the latest industry trends and network with other alumni who share the same interests. Since hosting conferences in-person is not possible for the foreseeable future, why not consider hosting that conference, or even just a panel discussion, online?
You won't have to worry about the physical setup and budgetary challenges of hosting an in-person event. Instead, most of your efforts will be focused on recruiting, scheduling and prepping panelists; marketing your event; and, of course, getting squared away with the technology you'll be using.
Nowadays, Zoom is the video conferencing tool of choice, and there are good reasons for it. Zoom offers a variety of interactive features that go well beyond video; two of my favorites are polls and breakout groups. Breakout groups are a particularly great way to help you foster relationship building among your attendees and panelists. Before the event, be sure you select discussion topics for your breakout groups and pick a great moderator who will help keep the conversation flowing.
Lastly, I'd be remiss if I didn't mention that you want to consider a dry-run of your event tech set up, just to make sure you're comfortable with hosting an online event. Here are a few other tips from the New York Times that could prove helpful:
1. Test your camera and microphone
You want to make sure that everything is working so that the tech will work with, and not against, you. This includes testing your camera (and what it sees!) as well as your microphone. I would also suggest having your panelists join you a bit early to make sure that their cameras and microphones are working, too.
2. Mute everyone by default
As the host, mute everyone else by default so that there won't be unnecessary background noise.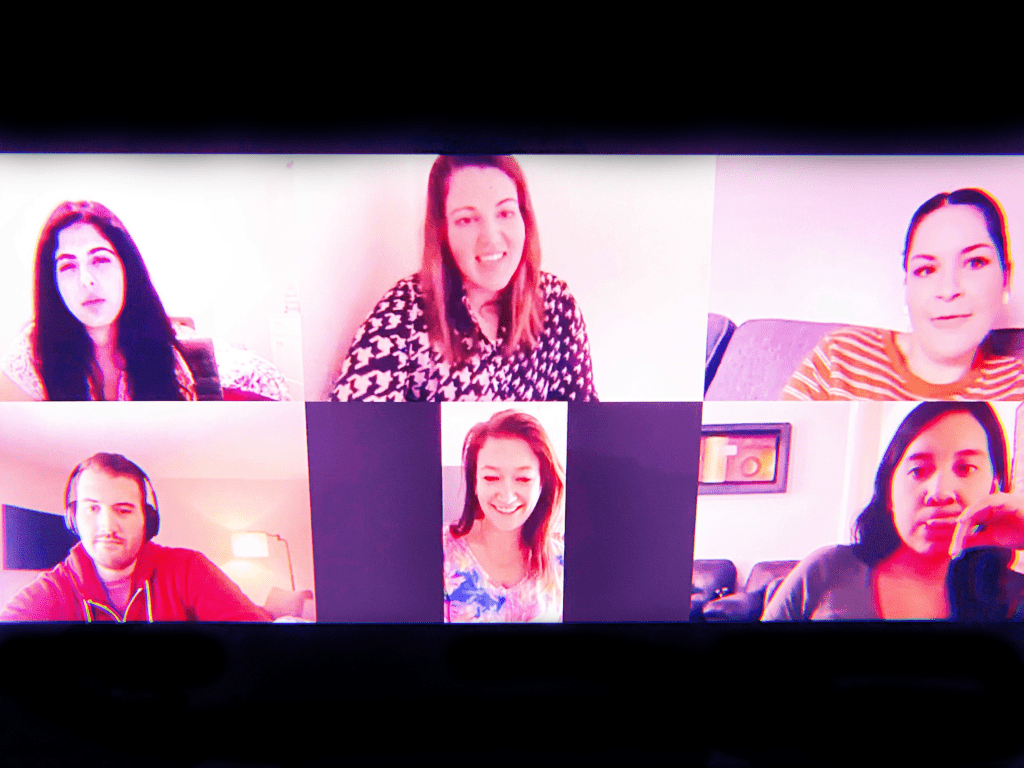 Organize a Networking Happy Hour
The networking happy hour or social, the staple of many a business school event, is a great way to relax and unwind, even though you're practicing social distancing. Just like you'd plan a theme or pick a location for a business school happy hour or social, it's important to plan for this type of online event, too.
Here's how I'd get started:
1. Pick a theme, date, and time
This could be as easy as telling everyone to show up with their beverage of choice after classes end, or asking everyone to bring their beverage and to come attired in black and/or white (to replicate that Black and White Party you'll be missing, of course!)
2. Pick a format
Ideally, there are two options: a smaller Zoom gathering for 3-5 of your closest friends, or a bigger gathering where you and a larger group of your friends could have intimate, 1:1 conversations. If you just want a catch up with a few friends, a smaller Zoom video chat is probably the way to go. However, if you want to catch up with a bunch of your classmates in quick succession, I'd check out Hio's Virtual Lounge. With this tool, you can catch-up for seven minutes at a time, one-on-one, with each of your classmates. It's great for folks you don't have a chance to see as often, but with whom you definitely want to stay in touch. I personally have been wanting to give it a try with some of my fellow KFBS Class of 2013 alums!
3. Schedule & market your meeting
Now that you've picked a format, schedule and market your meeting. Make sure your friends and classmates know what to expect in advance, so that they'll be aware of how they'll be catching up with you virtually.
I hope you've found my two suggestions for networking while social distancing helpful. Since we all live blended lives that are both online and offline these days, don't forget that it's always possible to replicate a great in-person event experience online! It just requires a bit of extra planning.
Interested in contributing to MBAchic?
Come share your advice and experiences with our community!
Images by PxHere, MBAchic and Lauren Collalto-Rieske
Lauren Collalto-Rieske is the Chief Marketing Officer of Hio, event software and a networking app. At Hio, she's been responsible for developing and executing the startup's brand and launch strategies. She has over 10 years of experience in marketing, client service and sales in three industries: financial services, CPG and technology, and has worked with well-known brands such as Aveeno, Hershey's, Reese's, and Modelo Especial. She holds a BA in Art History, cum laude, from Wellesley College and an MBA from the University of North Carolina's Kenan-Flagler Business School. In her spare time, she enjoys reading the latest historical fiction, savoring chocolate and coffee, and spending time with her rescue Frenchie, Skyler, and her family. You can connect with her on Hio by clicking here.