Minority Founders Earn Funding Through Million Dollar Student-Run Peachtree Minority Venture Fund
Partner content from our friends at Emory Goizueta.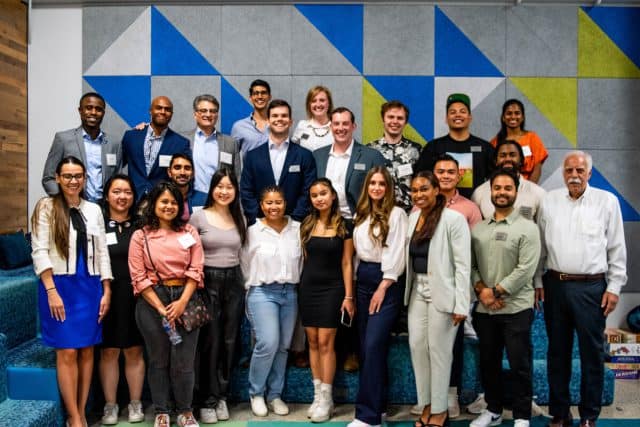 The first of its kind in the nation, in 2020 The Roberto C. Goizueta Center for Entrepreneurship & Innovation launched Peachtree Minority Venture Fund (PMVF), a $1 million student-run venture fund that addresses the funding gap for Black, LatinX, and Native American entrepreneurs. Fund activities and related classwork began in the 2021-2022 academic year. Underrepresented minority founders receive less than three percent of U.S. venture capital investment. Peachtree Minority Venture Fund seeks to play a role in changing this narrative.
Each year, PMVF students acting in the investor role, along with faculty and advisory board input, hold the Spring Showcase at The Hatchery on campus to announce new investments. To date, the fund has made total investment commitments of $170K into seven companies in seven different industries in six cities. In the first round for the 2021-2022 academic year, the investment process began with commitments to CommunityX, Ecotone Renewables, and FundStory. Just this past spring, investments were committed to Arch, Chezie, ConConnect, and Tuyyo.
JB Kurish, professor in the practice of finance and a Business & Society Institute faculty advisor, guides the PMVF's academic curriculum with Jill Perry-Smith, senior associate dean, strategic initiatives, and academic director of The Roberto C. Goizueta Center for Entrepreneurship & Innovation, Rob Kazanjian, Asa Griggs Candler Professor of Organization & Management, and Juanita Velez, adjunct professor and senior manager diversity, equity, and inclusion operations for Delta Airlines. In addition, Brian Cayce recently joined Goizueta Business School as Managing Director of The Roberto C. Goizueta Center for Entrepreneurship & Innovation. Cayce brings 17 years of venture capital experience to the team having founded the early-stage impact-focused funds of Gray Ghost Ventures.
Nurturing Future Investors and Entrepreneurs
"Through directed curriculum and classwork, students gain the real-world analysis skills required to make informed investment decisions," Kurish says. With an industry agnostic approach, "The fund follows a holistic research process during which the students operate in the role of investors. Investors not only learn about the company in front of them, but also about the larger industry and its risks and upside."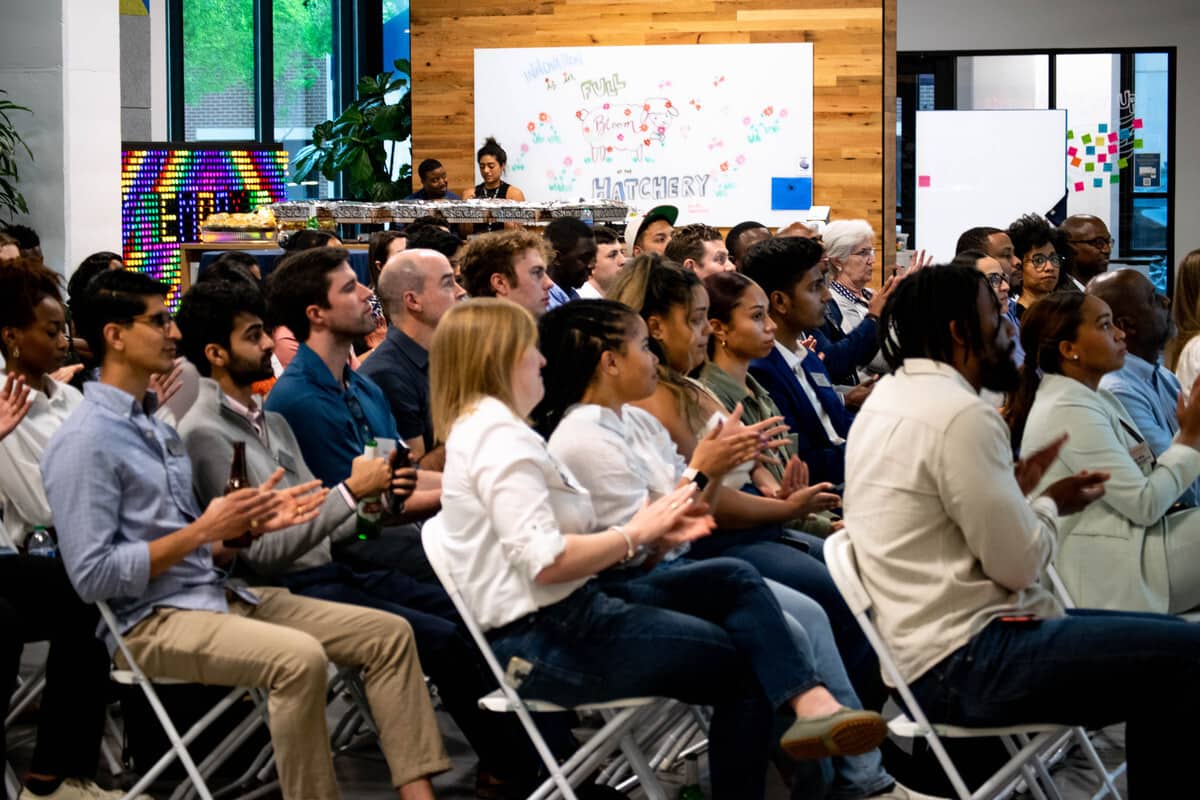 Student participants come from a wide range of degree programs, including Goizueta's undergraduate Bachelor of Business Administration program, the school's multiple MBA programs, and Emory University's law school. This diversity excites Kurish. "We like the fact that we've got students from various academic programs involved. Add to that their unique cultural perspectives and age differences and we all benefit from the interaction."
A richness and experiential value come to students by what they bring as individuals to each discussion. This sharing develops a collective holistic appreciation for the needs and desires of underrepresented founders.

JB Kurish, professor in the practice of finance and Business & Society Institute faculty advisor
The PMVF documents investments of entrepreneurial funding ranging from $5-50K through a simple agreement for future equity. Kurish explains, "Most common are seed stage investments of $15-$30K. The goal for these investments is to gain allocation into a financing round led by institutional investors."
In addition to benefiting each founder and company, this process also provides students unprecedented access and exposure to the world of venture capital–not to mention potential job opportunities.JB Kurish
To educate and empower founders, the fund offers resources and tools such as Cap table simulator, talent locators, pitch deck examples and basics, and financial modeling for startups. As an educational partner to founders, Goizueta will continue to expand its impact for growth. Kurish notes, "In the future we will incubate their success with even more educational and professional networking opportunities."
Changing the Funding Narrative
Each fall, student class members and leaders are selected for participation in the fund activities. Past student participants continue to support the fund by taking part in evaluative and processing activities in the fall. These fall activities pave the way for the main thrust of student engagement in spring.
During the 2023 spring class, the fund received over 50 applications. From this applicant pool, managing partners screened over 100 deals and engaged in preliminary due diligence on over 50 of them. To further narrow the pipeline of potential investment, the PMVF team conducted another round of deep due diligence on 10 deals. The investment committee then reviewed the final five deals and ultimately selected four companies to receive PMVF investment.

JB Kurish
After extensive research, interviews, and analysis by the PMVF team, the following companies received investment commitments through the fund in the 2022-2023 academic year:
It is an honor to receive an investment from Emory University's Peachtree Minority Venture Fund. As an alumna of Goizueta Business School, this investment is a full circle moment as I began working on TUYYO while I was receiving my Executive MBA in 2020-2021. This investment will further support TUYYO's growth in new retail locations across the United States and assist in our efforts to provide clean ingredient, Latin-inspired products to the LatinX community and beyond.

Tuyyo Foods Founder/CEO Stefanie Garcia Turner 21EMBA
To carry on the rich tradition of investing in and supporting underrepresented founders, the new managing partners of the Peachtree Minority Venture Fund have been named. Brandon Best 24MBA, Sumo Desai 24MBA, Savannah Holmes 24MBA, Brandon Jacobs 24BBA, Madeline Ledford 24MBA, Kevin Liu 24EvMBA, and Benedict Owanga 24JD will all lead for the coming year.
PMVF Wins the AACSB Innovations that Inspire 2023 Award
AACSB International, a global nonprofit, is the world's largest business education alliance that connects educators, students, and businesses across the world. Since 1916, the organization has been committed to creating the next generation of leaders. As part of its advocacy outreach in more than 100 countries and territories, AACSB selects 25 Innovative Business Schools of Tomorrow that drive new value for stakeholders.
Kurish shared, "In the words of AACSB, Goizueta's Peachtree Minority Venture Fund 'was one of 25 institutions that demonstrate how AACSB member institutions are creating new value for a continuously evolving business world and global society.'"
Learn more about the Peachtree Minority Venture Fund and access founder applications.
Follow fund news on Twitter @Peachtree_Fund and LinkedIn @PeachtreeMinorityVentureFund.
Read more about the prestigious AACSB International award here. 
Photos from Emory Goizueta / Emory Business and Micheile Henderson