Harnessing Resilience: PD Soros Fellow Daniela Veloza's Rise from Swimmer to Scholar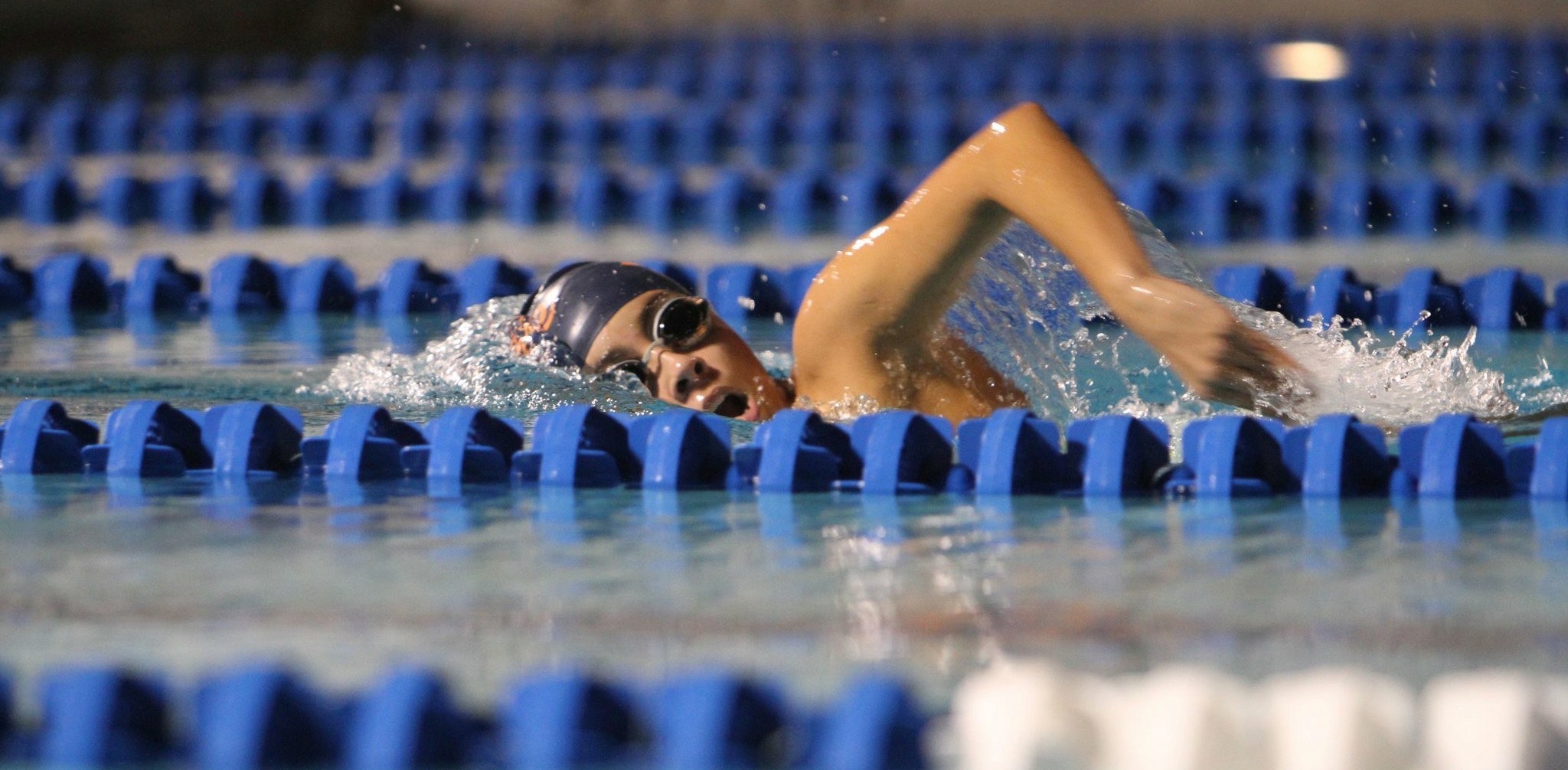 American former competition swimmer and five-time Olympic gold medalist Missy Franklin said her attitude determined what she could achieve in and outside of the pool. "It's all mental in getting out there, and having confidence in myself, and having strength and knowing I can do it."
Ask any corporate athlete and chances are you'll hear a similar sentiment. The dedication, perseverance, and discipline required to achieve remarkable success within the swimming world are not unlike the journey towards academic or professional greatness. This truth is exemplified by Daniela Veloza, a 2023 Paul & Daisy Soros Fellow and incoming Harvard MBA student. Drawing inspiration from her athletic career, she carries its values into her pursuit of academic and professional excellence.
The daughter of a Colombian immigrant, Daniela grew up in a vibrant community of new Americans in South Florida, where she discovered her passion for swimming. Recognized for her early talent, she gained sponsorship to compete in Colombian swimming competitions. With love for the sport and inspired by her mother's powerful values, Daniela trained to become a semi-professional swimmer in long-distance events. Representing Colombia in international competitions, she became an 18-time national medalist, cherishing the ability to connect with her rich heritage.
Resilience has been the guiding principle driving Daniela to overcome obstacles in athletics, academics, and business. As a new American, she embodies the strength, ingenuity, and resiliency of her Colombian heritage. This core value shapes her perspective on community engagement, promoting diversity, equity, and inclusion in the spaces she inhabits.
Her early professional experience at the Harvard Shop, where she managed undergraduate work-study employment, sparked her passion for the intersection of consumer products and social impact. She furthered her management career at Bain & Company before assuming a leadership role in strategic planning at Coca-Cola FEMSA in Mexico. This experience deepened her understanding of Latin American cultures and the immense social responsibility of the consumer products industry.
PD Soros has helped to shape the futures of close to a thousand immigrants since it was established over two decades ago, providing financial support and an extensive community which many fellows describe more like extended family than a network. Learn more about it here, as well as eligibility requirements and the approaching October application deadline (find this and other scholarships inside MBAchic). You can also check out some of the other fellows MBAchic has interviewed, like Riana Shah, Kathy Ku, Norma Torres Mendoza, or Jenna Nicholas.
MBAchic: Can you share how you feel about the opportunity to join the PD Soros community and meet fellows who share the New American experience?
Daniela Veloza: I am so grateful for the opportunity to connect with the greater PD Soros community comprised of like-minded, ambitious recent immigrants to the United States. I am
particularly grateful for the ability to bring my full self to the community and bond over the New American experience we all relate to.
MBAchic: Your swimming career took you to Colombia, where you represented the country in
international competitions. How did immersing yourself in your heritage through this
experience shape your personal and professional growth?
Daniela Veloza: Representing Colombia in swimming competitions was one of the most eye-opening and meaningful experiences of my life to date. Until my recruitment onto the national team, I mostly learned about my culture through the perspectives of my family and our friends. As beautiful as that was in my early childhood, I yearned to explore my roots and live the richness of my heritage for myself. Through the countless training camps and meets across the country that came with my athletics, I was blessed to slowly form my own distinct relationship with Colombia. On a personal level, it helped me come to terms with and celebrate my biculturalism as a Colombian American. I credit my swimming career for procuring my global mindset, deep interest in various Latin American cultures, and desire to support the multifaceted Latinx community in the US.
MBAchic: As the Chief Operating Officer of the Harvard Student Agencies, you focused on maximizing wages and creating more employment opportunities for fellow students. How did this role deepen your understanding of the connection between consumer products and social impact?
Daniela Veloza: My first leadership role was serving as the Operations Manager for the Harvard Shop, an apparel business and HSA's largest student run agency with around 50 sales associates. Overseeing the day-to-day operations of our retail stores, I immediately fell in love with the consumer aspect of my business – the nuances behind purchase decisions, the creativity needed to innovate and the emotional connection one can generate through authentic storytelling. I was also inspired by the influence our business had on the well-being of the students we employed. As one of the largest employers on campus, we often set the benchmark for student wages and innovative employment practices in Cambridge.
My early role helped me draw a connection between these two spheres, the consumer products industry and positive impact – delighting customers can have a socially responsible angle that benefits various other stakeholders too. In the nonprofit context of HSA, my primary stakeholders were fellow students. Through my later professional experiences, I came to appreciate how much my industry impacts wider society and how necessary it is to have business leaders that equally prioritize positive social impact as they do profits.
MBAchic: During your time at Bain & Company, you dedicated your free time to championing
socioeconomic, racial, and gender representation. Could you tell us about some specific initiatives or projects you led and the impact they had on both the organization and the communities you worked with?
Daniela Veloza: In addition to my case responsibilities as an Associate Consultant, I co-led Bain's Harvard Diversity Recruiting Team for 3 years, serving as chief advocate for diverse candidates in interview processes and liaising with Harvard administration to best support applicants.
One of my proudest accomplishments during my tenure was co-creating and launching Bain's first "Summer Mentorship program" for undergraduates, a program that increased access to entry-level opportunities for diverse applicants. Our efforts supported 50+ prospective consultants across North America and served as a benchmark for other school teams and offices within Bain, a significant step in increasing representation within our firm.
I also served as Inspire's Co-Office Head for the Bain Boston chapter, guiding our leadership team and 30+ volunteers to support local non-profit organizations. Through the six pro-bono cases we led during my tenure (including our first DE&I case with a mentorship organization for low-income youth), my team and I played a role in addressing socioeconomic, racial and gender issues in Boston.
MBAchic: Your experience at Coca-Cola FEMSA in Mexico provided you with a deeper understanding of Latin American cultures and the social responsibility of the consumer products industry. How do you envision leveraging this knowledge and experience to lead a high-growth consumer brand that serves the US Latinx community and drives positive social impact in areas like diversity, equity, and sustainability?
Daniela Veloza: At Coca-Cola FEMSA (KOF) Mexico, I applied my strategic background to define our company's priorities and lead transformational projects in a multinational bottling operation. The experience not only enriched my knowledge of a sister culture and of the Mexican consumer through the lens of the country's leading refreshment beverage, but it also opened my eyes to the immense social responsibility that the consumer products industry carries for many pressing issues. Our decisions at Coca-Cola FEMSA impact the very fiber of the Mexican community: the economic viability of local 'tienditas' struggling to survive amidst globalization, water availability for local communities facing droughts, and plastic pollution bottlers principally generate. Seeing these issues play out in real-time and working with our leadership to respond thoughtfully to crises that arose, I refined my own views on promoting social responsibility leadership in the consumer context. I hope to lean on these lessons heavily going forward.
MBAchic: MBA programs are known for their demanding nature. Can you offer any advice on
finding a balance between the demands of an MBA and personal life?
Daniela Veloza: Setting priorities and being able to say 'no' to things that are not aligned, or perhaps lower priority is the key to finding balance. More specifically to pursuing an MBA, I've found that it is important to set clear objectives for your time in the program such as transitioning careers, connecting with speakers invited to campus, or building meaningful friendships in your class. It then becomes easier to distill your priorities from those clear objectives and make the difficult trade-offs when you need to.
MBAchic: Being named a PD Soros fellow surely played a significant role in helping you achieve your MBA goals. What advice would you give to those who are interested in applying for the fellowship?
Daniela Veloza: If you are applying to the fellowship, chances are you have already made
significant waves in your field and space around you. My advice is to be sincere, genuine and confident in yourself, your professional dreams, and the impact you have left in your community to date. Honesty and confidence will show through to the committee.
Photos from Daniela Veloza