How Goizueta's Master in Business for Veterans Program Empowers Military Heroes
Transitioning from the honorable service of the military to the demanding world of civilian employment can be a daunting journey. In their hearts, veterans possess an unyielding determination to conquer new frontiers, but navigating new professional chapters is not without hurdles. Recognizing the challenges they face, Goizueta Business School has launched the Master in Business for Veterans program—a beacon of empowerment for active-duty military, veterans, National Guard, and Reserve personnel. This 11-month program, fully accredited and tailor-made for veterans provides unwavering support, cutting-edge education, and a transformative experience to smooth the sometimes bumpy business world transition.
Targeted and designed specifically for military service members on active duty preparing to transition as well as those who find that they need a graduate-level business curriculum to pursue a different industry or propel their career, this is only the second ever veteran specific graduate program in the nation. A decade ago, The Master of Business for Veterans (MBV) was created at the University of Southern California Marshall School of Business. USC collaborated with Goizueta to share the valuable lessons they've learned throughout their process, as the new Masters in Business for Veterans program was built. 
Not only will accepted students receive the traditional core MBA-level business courses every other weekend when they meet on Fridays and Saturdays, but the program will also have content specifically tailored to challenge veterans to think about career goals, the industry that suits them best, and where they can make a positive professional impact. Successful veterans who have made the transition to the business world will serve as executive partners to the program.
The Challenge of Employment for Veterans
Despite declining unemployment rates, transitioning to civilian employment remains a major challenge for many veterans. A study by the Society of Human Resource Professionals indicates that 55% of veterans view employment as a significant hurdle during their transition. To overcome this challenge, the Master in Business for Veterans program at Goizueta offers a unique opportunity for veterans to acquire the skills, knowledge, and network necessary to excel in the business world.
Retired U.S. Army Lieutenant General Ken Keen, Associate Dean for Leadership at Goizueta who is spearheading the program alongside Faculty Lead Professor JB Kurish, spoke with MBAchic and emphasizes the significance of support for veterans to discover passion and purpose after military service.
"Transitioning out of the military is hard, whether you are an enlisted member, a sergeant, a command sergeant major with 20 years of military experience, or a junior or senior grade officer up to general officer. It's very difficult. The army, where I come from, and all our military services provide a sense of purpose, and you have volunteered for that purpose. You're surrounded by others who have signed up for that as well. You've sweated and, in many instances, bled with them while pursuing your military career and service," General Keen says.
"Separating from that sometimes leaves a hole, and we struggle to find what that is beyond military service."
To fill that hole, Goizueta's new program will also provide a transitioning and career development component integrated into the curriculum over the 11-month period. This component aims to help veterans reflect on their current life situation, identify their passion and purpose not just in their business career but in life, and assist them in charting a path forward.
The Benefits of Pursuing an MBA for Veterans
One of the key advantages of pursuing an MBA for veterans is the broad range of benefits it offers. Georgia Tech Scheller College of Business's Assistant Dean of Non-Degree Education Coogan Perrin, served as an Air Force Cyberspace Engineering Officer before deciding to pursue her MBA at Goizueta Business School. She says obtaining her MBA back in 2013 helped her gain confidence in her leadership skills, and emphasizes the importance of getting an MBA to complement the skills that service members acquire during their time in the military.
"[It] provides the perfect blend of leadership and business aptitude to ensure success in the private or public sector," she explains.
"I learned vital accounting and finance principles, as well as marketing and negotiation skills that prepared me well for corporate America. Often recruiters value military experience: however, they want the service member to have leadership, operational, and strategic skills, as well as core business skills. Getting an MBA provides the perfect balance for service members to get exposure to and gain skills in areas in which they may be less experienced or knowledgeable," Perrin adds.
Built with flexibility in mind, Master in Business for Veterans students will take courses on campus and can continue to work as they earn a graduate business degree that contains all the core business courses of an MBA in less than a year. The program also includes a Career Development Program designed specifically to help veterans transition from the military to a civilian career in business. Every student enrolled in the program will be offered a mentor who is a military veteran with a career in business and will also be provided one-on-one career coaching.
"The challenge for the veterans in the program is to reflect on their own experiences, identify their strengths and areas for development, and utilize this opportunity to network and connect," says General Keen.
"We will tailor the support based on their individual circumstances and challenge them to embrace having a mentor and coach who will assist them in their journey."
Time and time again, mentorship has shown its remarkable power in guiding and supporting students to achieve their educational goals and excel in their academic pursuits. (Learn more about The MBAchic mentorship program which combines monthly one-on-one mentoring sessions with workshops and specially designed programming). 
During the year, students will put knowledge and leadership experience to work in hands-on learning opportunities, growing expertise in leadership, finance, marketing, data analytics, and operational strategies. All students will also participate in Goizueta IMPACT for Veterans, taking students beyond the classroom into real-world business scenarios, addressing strategic issues and problems within a variety of organizations, including Fortune 100 companies, non-profits, and start-ups.
Keeping the challenges of financial responsibilities in mind, this program also ensures that eligible students can combine G.I. Bill and Yellow Ribbon benefits (pending VA approval) to cover the entire cost of tuition for the degree to allow veterans to fully focus on their studies and career development.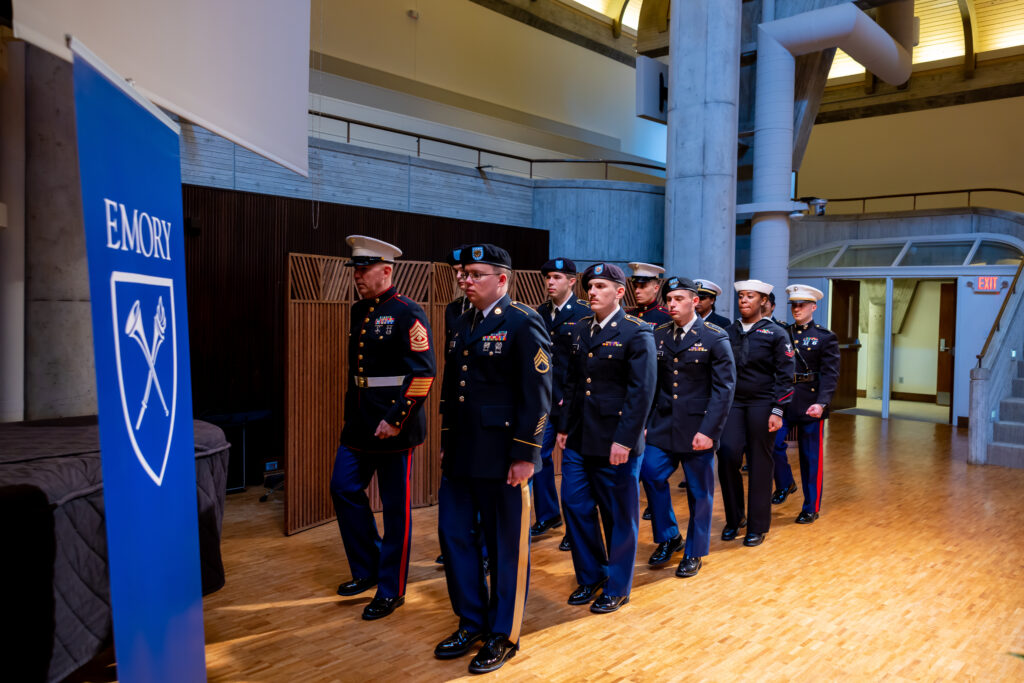 What Sets Veterans Apart as Strong Leaders
Military service endows veterans with unique qualities that set them apart as exceptional leaders in the business world. Their experience in high-stakes environments, coupled with the skills of adaptability, resilience, and teamwork, form a solid foundation for success in business.
"Anyone can learn their way around a profit and loss statement or excel sheet, as those skills are teachable in the classroom or online. Leadership, however, is not so easily learned," Perrin points out.
"Great leaders are developed over many years of managing teams, leading through difficult times, often with uncertainty and limited information. Veterans know how to remain calm under pressure and plan from strategy to successful execution. They know the importance of caring for one another and building camaraderie within a team."
General Keen affirms this, reiterating the shared veteran qualities such as leadership, discipline, trustworthiness, resiliency, and the ability to remain in control during chaos.
"Through their military experiences, they have encountered successes and failures. Veterans arrive in their civilian careers ready to do the hard work, showing up and working harder than anyone else," General Keen says.
"They understand that they don't know everything they need to know and are humble enough to acknowledge that and reach out to others. One skill that all veterans bring is their ability to build strong teams and be the ideal team member. They have been part of the military culture and values that prioritize the team over self. This makes them valuable teammates in any organization and allows them to make a tremendous positive impact on any business they join."
Moreover, the Master in Business for Veterans program provides a platform for veterans to leverage their unique military experience and excel as leaders in the business realm.
Insights and Advice for Veterans
Reflecting on her journey, Perrin highlights some aspects of pursuing an MBA that she wishes she had known earlier. She advises veterans considering this next academic step to take the time to think through which core classes and electives they want to focus on as career building blocks.
"I could have benefited from spending a bit more time upfront to research and explore which components of the MBA I wanted to focus specifically on to enhance my skills in certain areas," she says.
Additionally, Perrin suggests that veterans embrace their military experience and draw upon it as a source of strength and advantage.
"Hands down, without question, obtaining an MBA was the biggest career-changing decision I have ever made, it opened more doors than I could have ever imagined and set my career on a completely different trajectory," she adds.
By empowering veterans with the knowledge and skills necessary for business leadership, veteran specific programs not only transform individual lives but also enrich the business landscape with strong, values-driven leaders who are poised to make a difference. Interested in learning more? The first cohort of veterans will start classes in May 2024, with application submissions opening up this August. Considering starting your MBA journey but need additional support and guidance?
Join MBAchic to discover a greater source of inspiration, enablement, and growth. Connect with fellow members and unlock your full potential. Meet mentors, classmates, and colleagues who understand your unique journey, and gain invaluable guidance and reassurance that can shape your future endeavors.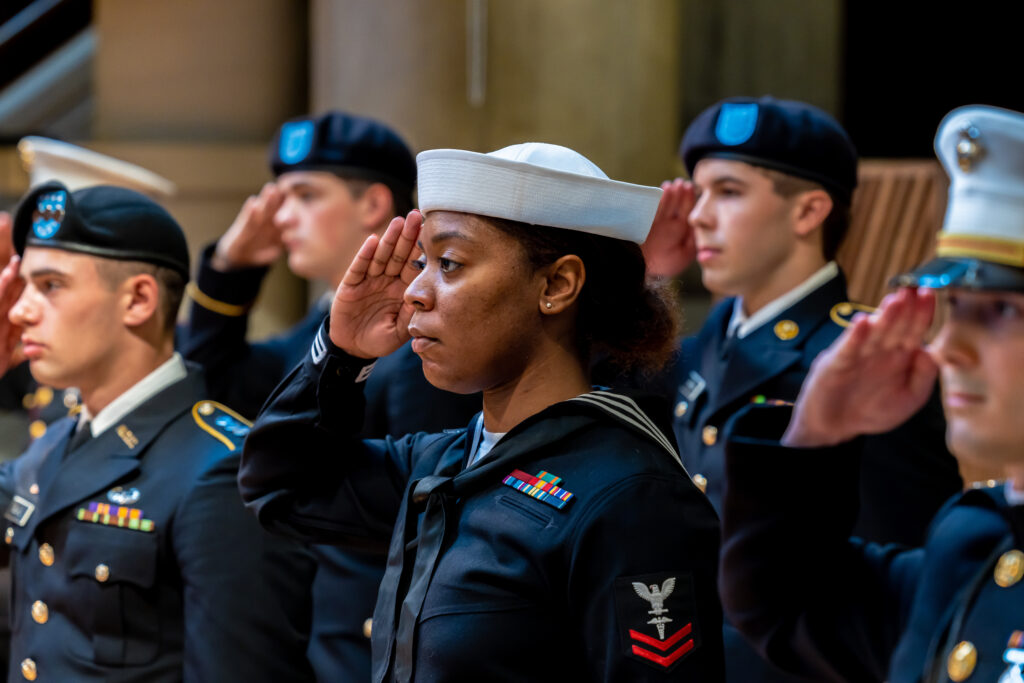 Photos from Emory Goizueta